We decided to change it up a little this year with our curriculum. I have always used curriculum that seemed to be alot like traditional school material. Pages and pages and pages of work, nothing really that exciting, not much to look forward to day after day. I started researching a little about the Charlotte Mason approach to homeschooling and realized very quickly that this was the way I wanted to school my bugs. In a couple of words, Living Books! Wow, what a difference this has made in our homeschool. We no longer dread getting started in the mornings with this curriculum. It has really been a blessing!
I first saw it at a homeschool convention in Memphis, TN last year. I was a little scared at first but after praying about it and realizing that we had to make a change, it became clear that this is just what we were looking for. QUEENHOMESCHOOL! Publisher of books for the Charlotte Mason Style Educator.
So far, my three oldest bugs started the Language Lessons. These books are written by Sandi Queen.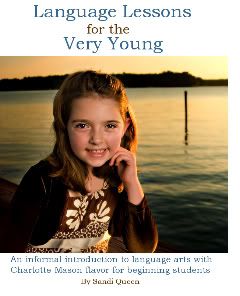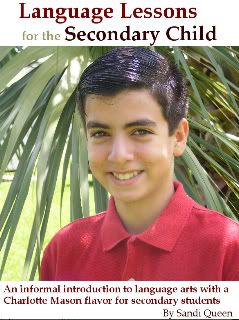 These books each have practice in picture study, narration, copywork, dictation, poetry appreciation & instruction, creative writing, grammer instruction, and more, depending on the level.
We are also using the "Learning to Spell Through Copywork".
This series picks up where your phonics program leaves off. Each volume reviews one phonics rule per week, which is very helpful when there are ones that need a refresher course! They are to copy over and narrate words that follow that week's rule throughout the rest of that week. These books are written by Haley and Sandi Queen.
I have my two oldest bugs doing Words of the Week.
This is a vocabulary program based on a picture study. Each volume is an 18 week program for grades 4 and up. It uses full-color picture study and introduces five new words each week.
One area of our school we struggled with daily was MATH!!!!! Now, after starting this wonderful new way of homeschooling, we have also found a wonderful way to do math.
My second grader just started Math Lessons for a Living Education.
We are enjoying it so much. Each lesson is very fun and adventurous! By far, one of my favorites.
My two oldest started Life of Fred. I had heard of LOF before but never really thought about it to much. I have a couple of friends that use it in their homeschool and seemed to have had success with it.
My oldest bug started the Life of Fred: Fractions. She needed a little refresher course!
My second to oldest bug started with the first elementary Life of Fred book entitled "Apples".
We are also using the Printing with Pictures handwriting program and the Pictures in Cursive series. These were also written by the Queen family.
We are still using another bible study series, history and science curriculum but in the near future, plan on using the complete Queen Homeschool Curriculum.
I want to apologize for this post being so long but I have really been wanting to share the new way we do school around here at our HAPPY homestead!