As a member of the Schoolhouse Review crew, we were blessed with a product from
Abingdon Press
to review. They began publishing a wide variety of high-caliber academic, professional, inspirational and life-affirming religious literature in the early 1920's. Abingdon Press has committed to providing the most effective religious publications available.
For this review, I received the Common English Deep Blue Kids Bible. It comes in 5 cover choices:
3-D Hardcover
Image-Flex Cover
DecoTone Midnight Splash
DecoTone White Splash
Imitation Leather in Burgundy
We received the "Image Flex" cover for our review. We really enjoy the flexibility and durability of this bible.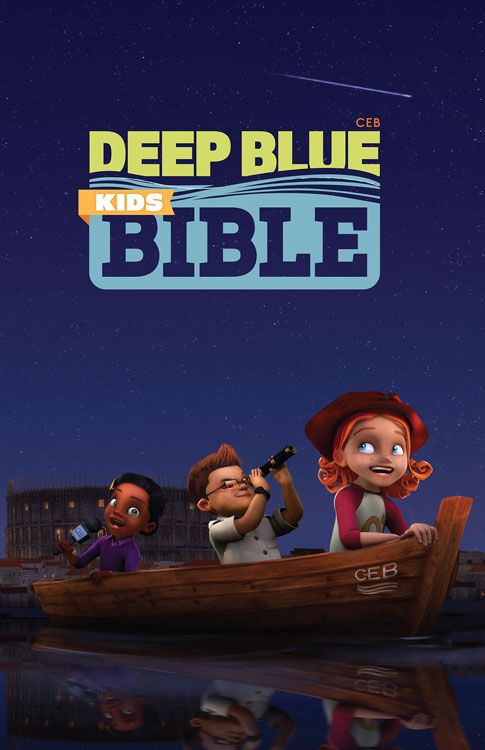 We as a family really enjoy reviewing and using all different kinds of bibles and bible translations. In our home, we mostly use the KJV(King James Version) and the NIV(New International Version). I was pleasantly surprised with this version. I feel children can understand this version quite well. We love our KJV bibles but often the bugs, and myself included, will not always understand what we have read or want to understand it more. With the CEB version, we would look up the same passage we read in the KJV and have a better understanding of the Word!
Here is a passage from Philippians 4:13 in the KJV bible: I can do all things through Christ who strengthens me.
Here is the same passage in the CEB version: I can endure all these things through the power of the one who gives me strength.
So you can see how a child might understand the CEB version better. This bible is recommended for ages 7-12.
Some other features include:
4-color throughout
Presentation Page
In-text subject headings
Bible dictionary
Eight full color maps from National Geographic
9-point type
We loved the three little characters in this bible. The Deep Blue Crew includes Asia, Edgar and Kat. They will teach and help your children discover and explore the bible in a fun, exciting way.
One of the many features I enjoyed about this bible is at the beginning of each book of the bible. There are sections that include: things you'll discover, people you'll meet, places you'll go and words you'll remember. We recently studied about Esther and read many passages from the book of Esther. Under each of these headings, it tells us about the things we will discover in the book, people we will learn about, words we will remember and my favorite, places we will go. In the book of Esther, they refer to Persia and under this heading, it tells us that Persia is present-day Iran. Just another fun way to learn with this bible. So many things we are learning that we never knew before until now.
My family and I have really enjoyed this bible and look forward to using it everyday in our homeschool. Overall, I am very impressed with this little bible. In my opinion, this is a great study bible for all ages. I am seriously thinking about ordering the Learning To Use My Bible Class Pak and Teacher Guide.
To check out the Deep Blue Kids Bible, go to http://www.deepbluekidsbible.com.
The price for the Image-Flex cover bible is $26.99. You can go here to see resources, where to buy, videos and a sample of this bible.
You can also go here to purchase this lovely bible!
To see more reviews about the Deep Blue Kids Bible, visit the crew at the Schoolhouse website.
Disclaimer: As a member of TOS, I received this bible, free of charge, in exchange for my honest opinion and review.