Today the little ones helped me grind grain and make a loaf of homemade french bread.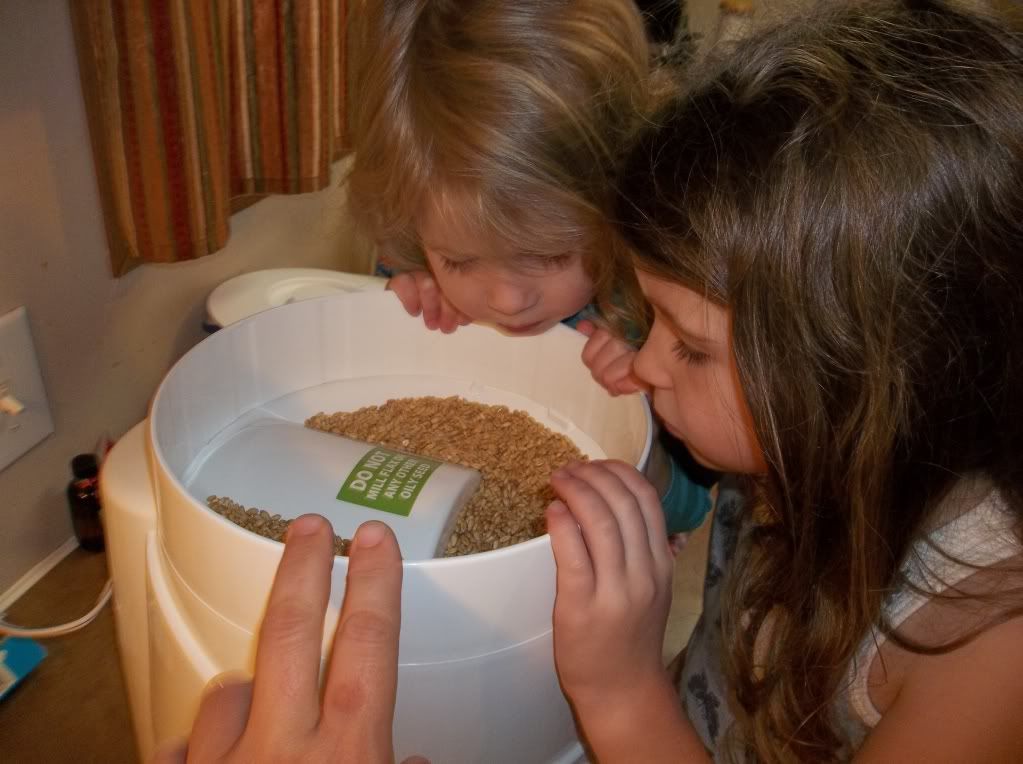 They are so curious about things. Earlier they were sorting different colored beans for some of their school today and I explained that the beans they were sorting could be put in our Nutrimill and ground into powder. I guess they were curious how something as hard as beans could be turned into flour. They have seen me grind grains before but not up close like today. The had fun. After we had ground our grains into flour, we decided to make some french bread for supper tonight. I used a different recipe than I usually do. I turned out pretty good. I am still getting use to how different things taste when you use freshly ground flour. I have had this recipe for a long time. I cut it out of a magazine I used to get in the mail. Here it is....
(I used fresh ground soft white wheat)
2 teaspoons organic sugar, I have also used Sucanat
Combine the flour, yeast, sugar and salt in a large bowl. Stir in the warm water and oil. Mix until it is incorporated. It will be sticky. Pour out onto a floured surface and knead , adding flour to prevent sticking. Knead about 10 minutes and then transfer to greased bowl, turning to coat. Cover and let rise. When it has doubled in size, punch down, divide dough in half and shape into loaves. We made one large loaf but I think two smaller loaves would be best.
Transfer to french loaf pan or baking sheet. Place bread in cold oven and turn on to 400 degrees and bake for about 30 to 35 minutes or until loaves are puffed, golden and sound hollow when tapped on bottom.
(Personally, how do you tap an extremely hot loaf of bread on bottom!!!!!) Transfer to wire rack to cool slightly.