Lightning Lit & Comp
American Literature: Early-Mid 19th Century
Recently I was given the opportunity to review this product and was very excited about it. Not only is it my first review, it was a great opportunity to have one full year of literature for my oldest bug.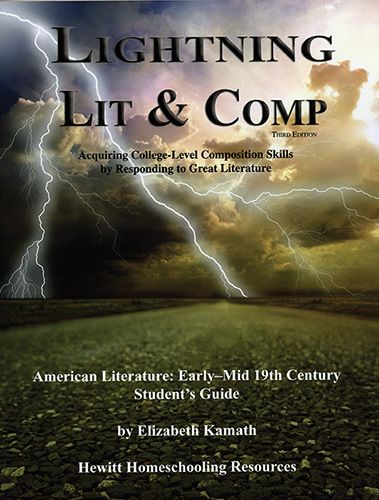 * The Autobiography (Benjamin Franklin)
* Narrative of the Life of Frederick Douglass:
An American Slave Written by Himself (Frederick Douglass)
* The Scarlet Letter by Nathanial Hawthorne
* Moby-Dick by Herman Melville
These four books are listed in the order that they are read for the course.
Some of the shorter works included:
* "The Angler" by Washington Irving
* Poems by William C. Bryant
* "The Tell-Tale Heart" by Edgar A. Poe
* Poems by Henry W. Longfellow
These short stories and poems were included in the student guide.
The STUDENT GUIDE is a 178 page softcover book that has eight lessons that are divided into different sections like this:
~~~Introduction
~~~The Selection
~~~While You Read
~~~Comprehension Questions
~~~Literary Lessons
~~~Writing Exercises
~~~Perspectives and Connections
~~~Appendix A, B, & C
The TEACHER GUIDE is 56 pages that are stapled together and have a three hole punch that can be used with a binder (not included). I love using binders! It has a table of contents with : introduction, grading tips, schedules, answers to comprehension questions, writing exercises and discussion questions. It explains each section in full detail.
What I thought about the course:
I really like the weekly lesson plans. We can look at the schedule and know exactly what to expect for that week. We have decided to do the full-year schedule along with our other language curriculum.
I like the fact that there wasn't a lot of prep time required on my part. My oldest bug was able to pretty much do it on her own. I would help her with any questions she might have and was able to correct anything with the teachers guide that she might have missed.
I felt that it covered the topics well. We will continue to use this for the rest of the school year and perhaps re-use it with the four other bugs when they become of age to do so. I would highly recommend this course to any student that loves to read!
The entire package can be purchased from Hewitt Homeschool:
Lightning Literature and Composition Pack American: Early to Mid 19th Century
Disclaimer: As a member of the schoolhouse review crew. I received this product, free of charge, in exchange for my honest opinion. All opinions stated are my own and those of my family.