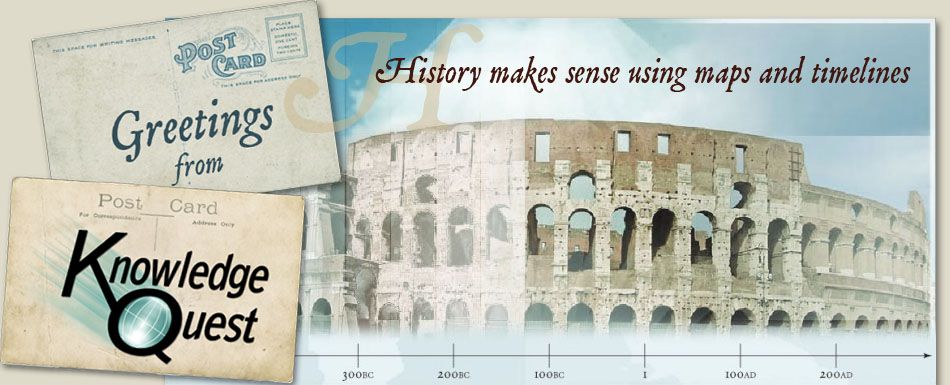 We have been so very blessed to be able to review the Map Trek 6 E-Book Set. Knowledge Quest, Inc. was started in 2001 by Todd and Terri Johnson. They are a homeschooling family with six children. Their desire was to produce simple black and white maps that children could color and label while studying World and American history. They eventually moved into other history, geography and timeline-related products. In 2011, they added educational mobile apps for the iPhone and iPad to their line-up.
Each ebook includes black outline maps, teacher answer maps, glossary of terms and lesson plans for the Ancient World, Medieval World, New World, Modern World and U. S. Maps. This is also available printed or on CD-ROM.
Lesson Plans have been included and are broken down into three categories: Level A, Level B and Level C.
**********Level A - This level is for children who are in grades 1st-4th.
**********Level B - This level is for children who are in grades 5th-8th.
**********Level C - This level is for high schoolers, 9th - 12th grade.
These maps can be used with numerous history curricula. Knowledge Quest also has curriculum integration guides, free of charge, to download and use with the history curriculum of your choice. They recommend to have a globe, wall map and/or separate atlas for reference.
Each E-Book is $14.95, with the exception of the U.S. Edition being $19.95.
One word, AWESOME!!!!!!! I can't say enough about this product. I think my favorite thing about Map Trek is having all these maps in e-book form. I can print as many copies as I want or not. I print what I need, when I need it. Even the little bugs enjoy coloring maps. I also LOVE having teacher maps. They are in full color and it is easy to check everyones maps. There is nothing about this product I dislike. I can see us using this product for many, many years to come!
See what other crew members had to say about Knowledge Quest!