We were so excited to start a new bible curriculum from Classic Academic Press.

This is the first time we have ever used this company, and so far, we love it! They offer Greek, Spanish, Latin, Poetry, Logic, Bible and more.
The product we are reviewing is God's Great Covenant Old Testament, Teacher Edition, and MP3 audio files.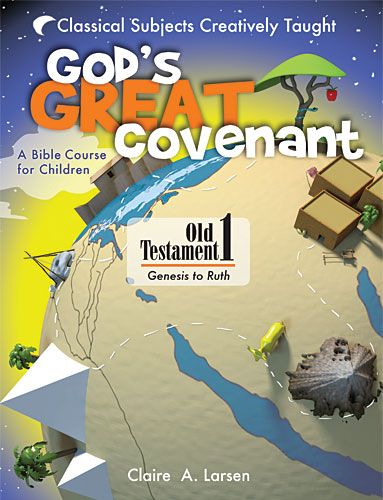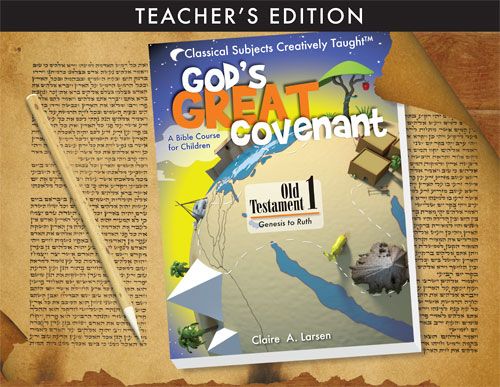 The MP3 audio files are $9.95.
Book 1 begins with Genesis and goes through the book of Ruth. It has 32 chapters and 5 unit themes.
*Unit 1: In The Beginning...God's Power (Genesis 1-11)
*Unit 2: By The Patriarchs...God's Promises (Genesis 12-50)
*Unit 3: Out Of Egypt...God's Redemption (Exodus 1-34)
*Unit 4: Through The Wilderness...God's Provision (Exodus - Deuteronomy)
*Unit 5: In The Promised Land...God's Faithfulness (Joshua, Judges, Ruth, Job)
In each weekly lesson you will have a memory verse, key facts and vocabulary, among other things. Each chapter has worksheets and a quiz.
Here is a sample chapter from their site:
The worksheets are wonderful. You have fill in the blank, true or false, circle the answers, finish the sentences and even puzzles. In the back of the student book is a glossary and very nice 3D black and white maps. We are having so much fun with curriculum. The bugs are always looking forward to their bible each day. Learning is so much fun when you have a wonderful curriculum to use like Classic Academic Press.
The teacher's book is great also. It has reduced copies of the student workbook which makes it easy for everyone to follow along. It also has an answer key and lots of notes that is very helpful for mom! I really like having a book to reference to so I can explain things more clearly without confusing my bugs. I often have to figure out the answers to questions and hope I'm right. With this teacher's book, the information is provided. I love it!
We are using this as a daily bible study.Here is a sample of a weekly schedule from their site.
What I liked about this curriculum is that it isn't just a bunch of watered-down bible stories, it's a solid-biblical teaching curriculum that teaches the bible. We are learning so much we didn't even know.
I think my favorite part is something called "Things to Remember". Each chapter has this section. For instance, in lesson 1, it tells us that "Ex nihilo" is a latin word that means "out of nothing" and "Elohim" is a plural Hebrew name of God that means "mighty, strong and majestic" or "the mighty God". We are learning so much.
See what other crew members had to say.
Disclaimer: I received God's Great Covenant OT Book 1 for review, free of charge, in exchange for my honest opinion and review. All opinions are my own.