We haven't blogged in a few days. Been pretty busy around here. We started play practice at church for our Christmas program that will be December 19th, this past Sunday. Having a lot of fun with that. It is going to be a really good program.
Monday was pretty much a normal day. We started with school, we are doing a Thanksgiving unit study. I will be posting some pictures of a few things we are doing with that. Did some laundry and sorted our herbs we got from Frontier. That's our food co-op with our homeschool group.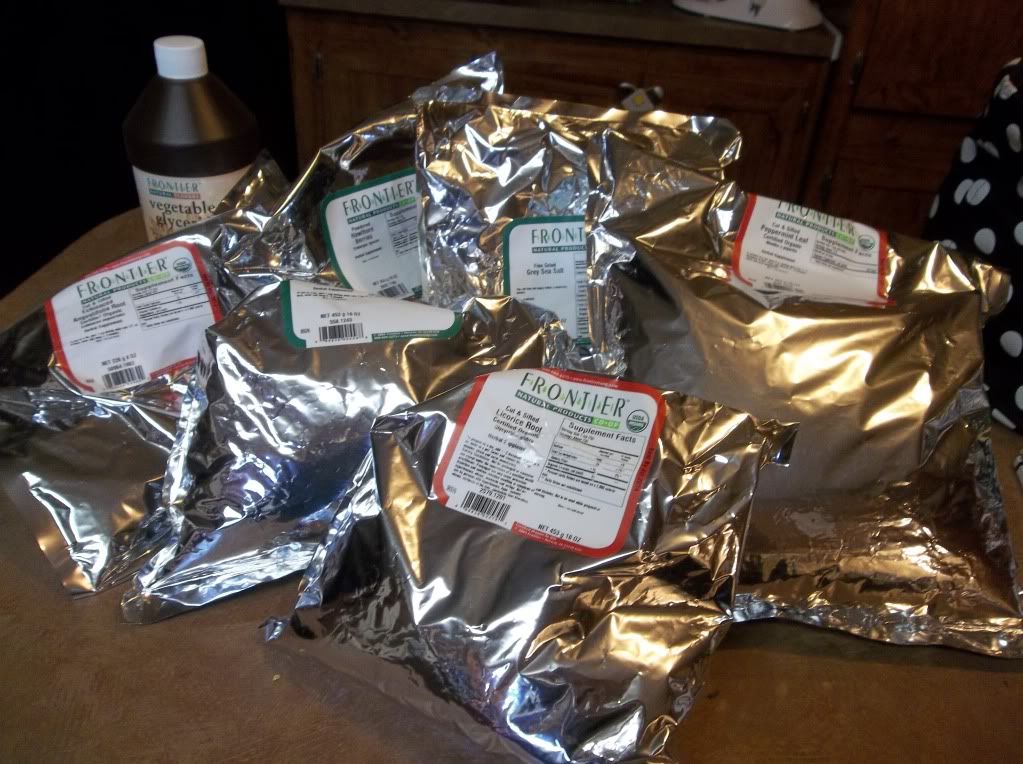 We ordered Peppermint leaves for some of our tinctures we are making and decided to make us some tea. Here are the bugs enjoying some of the Peppermint Tea we made Tuesday! We also had a little bible study while we were sipping our tea. I got a book off of Paperbackswap months ago entitled
Little Visits With God
. We really enjoy this little book. It has a bible verse, a short story pertaining to the verse, questions to ask the children and a prayer at the end to be read aloud. We all take turns reading the prayer.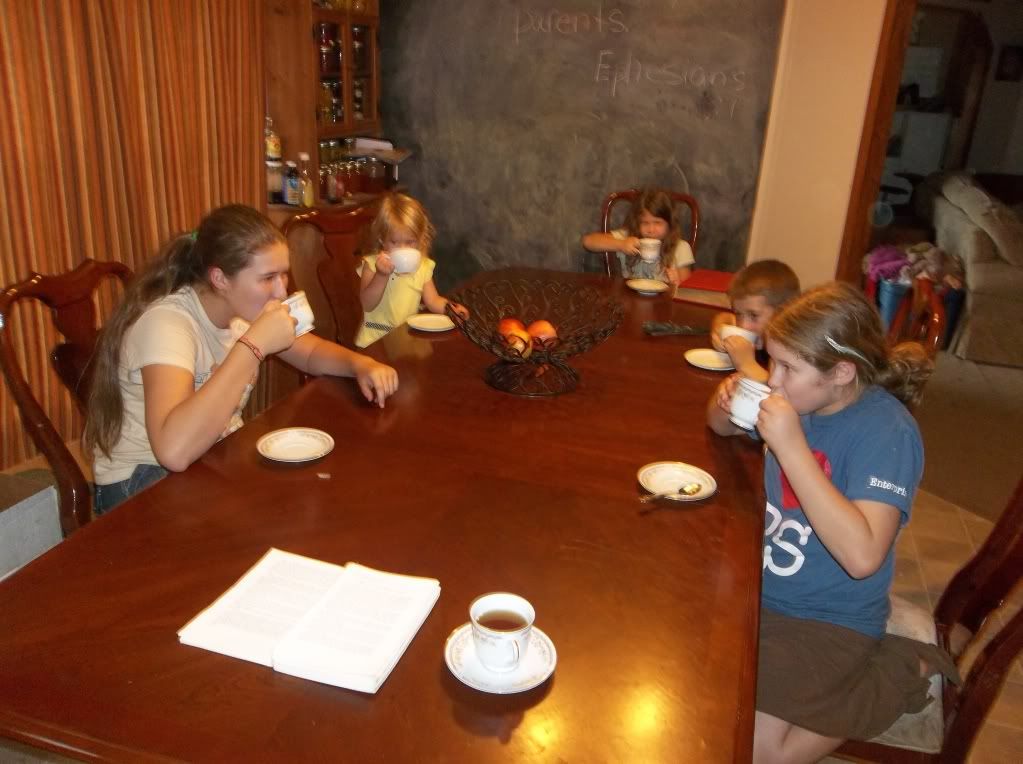 We also made our homemade laundry detergent this day also. I will post some pictures of us doing that in another post. Some of my friends are wanting to see this and also wanting the recipe.
Wednesday is usually music day but for us this week, we had to cancel. I was not feeling well so we decided to stay home. So instead of doing music, here is what we ended up doing.
My kids walked out to one of the gardens we have every summer and found these. They picked a few more than this picture shows. We sat at their Maw Maws and Pa Paws house, in the yard and shelled them for supper. We had a really good visit with my mom and dad while we shelled these speckled butter beans. There are still as many beans left on the vine as in the picture. We plan to pick the rest tomorrow and put them in the freezer. Look how beautiful these beans are. There is nothing like growing your own organic vegetables in your garden. GOD IS GOOD!!!


We also made a yummy dessert this afternoon to. Pecan Pie Surprise Bars! These taste just like pecan pie except you make them with a cake mix. How does that sound? Here is the recipe for these delicious bars. I forget where I first came across the recipe for these. Either way, they are FANTASTIC! I replaced some of the ingredients with the things we use around our house to stay as healthy as possible.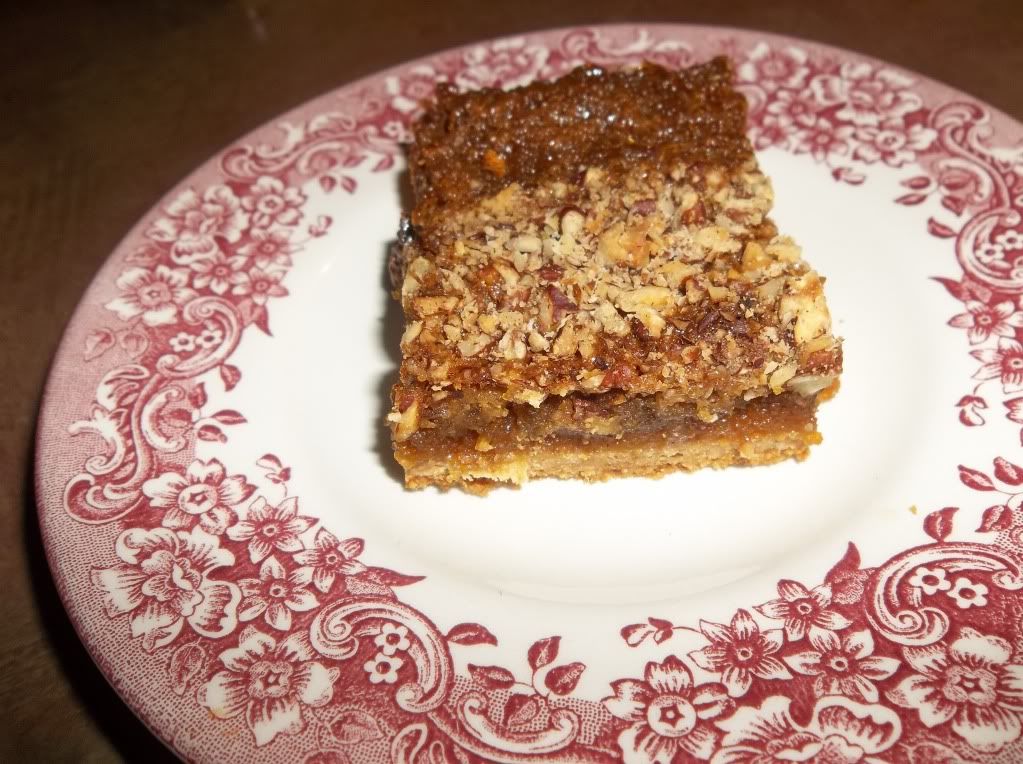 PECAN PIE SURPRISE BARS
1 package of yellow cake mix or can use a homemade mix
1/2 cup melted organic butter
4 eggs
1/2 cup firmly packed brown sugar (may use sucanat instead, I have used both and they both work)
1 1/2 cups dark corn syrup ( I used Sorghum molasses instead of the corn syrup)
1 teaspoon vanilla
1 cup chopped pecans
Set aside 2/3 cup of the cake mix. Combine remaining cake mix, melted butter and 1 egg in a large mixing bowl; mix and press out into a 13x9x2 inch baking dish. Bake at 350 degrees for about 15 minutes or until golden brown. Combine the reserved cake mix, 3 eggs, brown sugar, corn syrup and vanilla in a mixing bowl; mix thoroughly. Pour over partially baked crust and sprinkle with the chopped pecans. Bake at 350 degrees for 30 to 35 minutes. Cool and cut into bars.
Well, I guess that's enough about what we did for the last few days. I am sorry this post is so long. I will try to post a little every day instead of one every few days to keep my posts shorter.
GOD BLESS!