I have been baking for quite some time. We love baking in our kitchen, especially bread. We always try to bake some kind of bread every few days. We have so many recipes for bread, rolls, pizza bread, and cinnamon rolls . Here is one of our favorite roll recipes. I ran across this recipe in a magazine a long time ago and kind of made it my own. We use a variety of flours and sweeteners in bread dough for these kinds of recipes. Enjoy making these rolls and let me know what you think.
NO-KNEAD DINNER ROLLS
2 cups warm water, around 110 degrees
1 Tablespoon yeast
1/4 cup sugar, I usually use sucanat or honey
4 Tablespoons butter, melted
2 large eggs, lightly beaten
1 1/2 teaspoons sea salt
6 cups flour, (I used organic, unbleached all-purpose and organic whole wheat in this recipe.)
Pour warm water into a large bowl and sprinkle with the yeast and let stand until foamy. Add sugar, butter, eggs and salt; whisk to combine. Add flour (in this recipe I used 4 cups of the all-purpose and 2 cups of the whole wheat). Mix until a sticky dough forms. Cover the bowl with a dish towel and set aside in a warm place until dough has doubled in bulk.
Turn the dough out onto a well floured work surface and roll into a thick log.
Cut the log into about 20 equal pieces.
Brush a 9 x 13 inch baking pan with butter. One at a time, flatten each piece of dough, then fold edges toward the center, pressing to secure, until a smooth ball forms. Place dough balls in prepared baking pan, smooth side up. Cover with dish towel and let rise until doubled in bulk.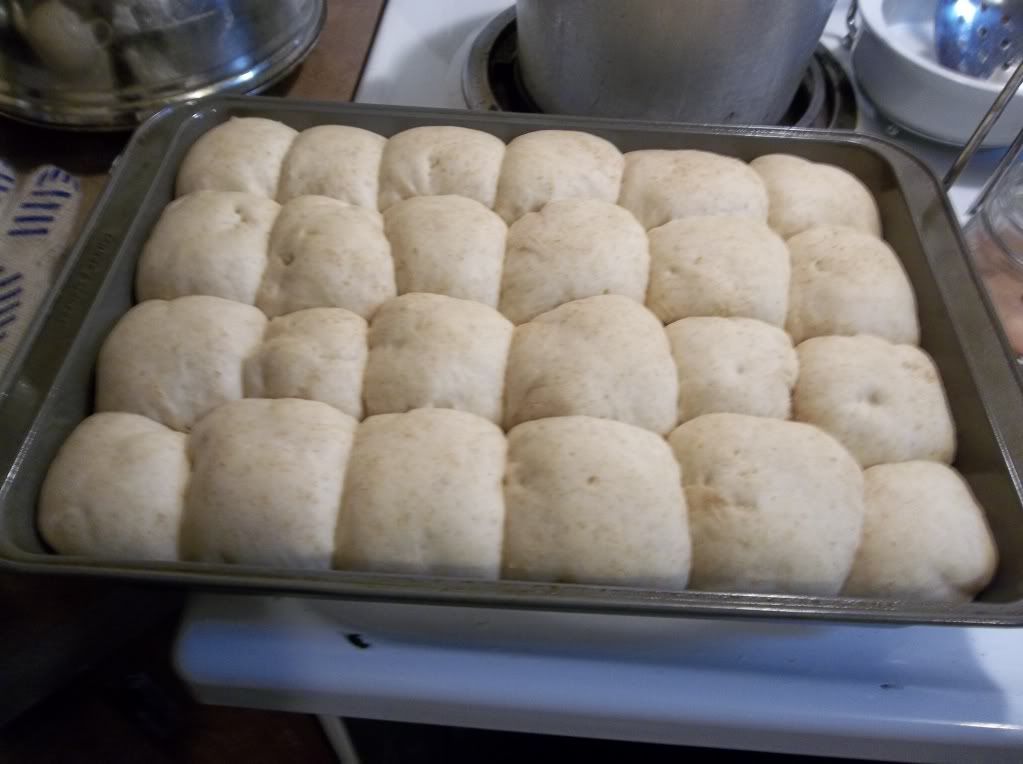 These have already doubled in size and ready for the oven.
Preheat oven to 400 degrees and bake until golden brown, about 34 to 40 minutes, depending on your oven.

Here is my little helper today in the kitchen. Isn't she so cute in my apron! I am so blessed, I always have little helpers around here.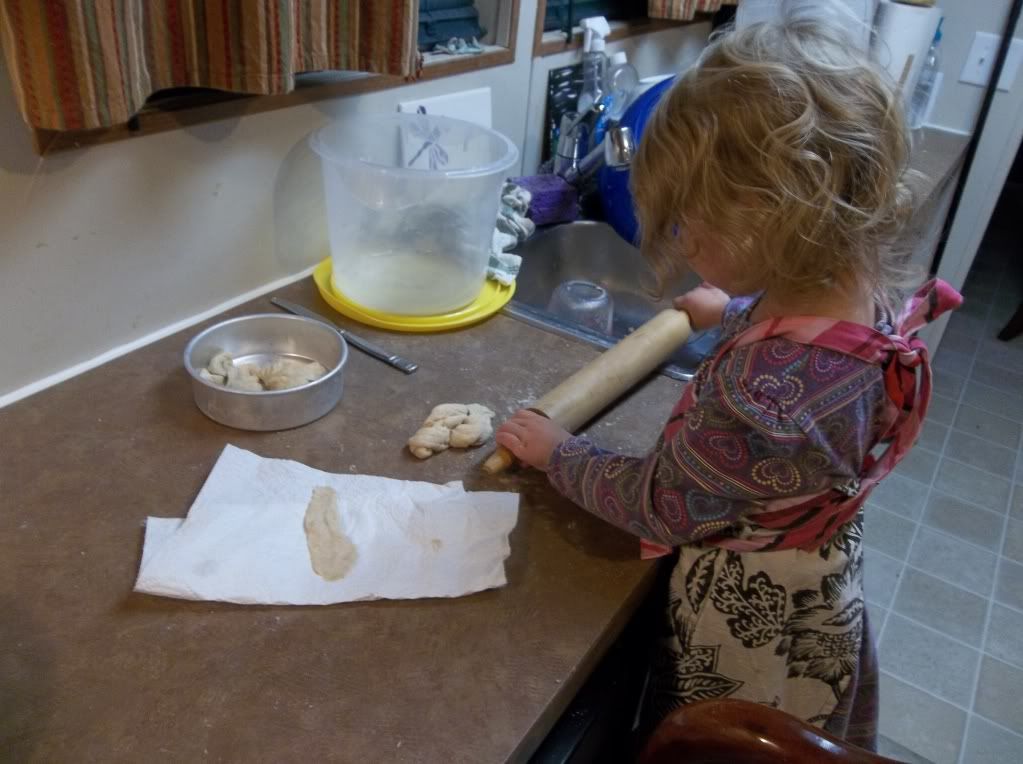 O taste and see that the LORD is good: blessed is the man that trusteth in him.