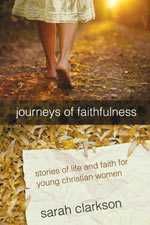 Journeys of Faithfulness by Sarah Clarkson is a collection of inspirational stories and devotions written for young Christian women. It can be read alone or with other young women, or in my situation, two of my oldest daughters ages 11 & 15. It is written for girls ages 12 & up but my 11 year old is a very smart bug!
This book is broken down into four parts:
Part One: Mary and Martha
Part Two: Mary, Mother of Jesus
The author provides fictionalized stories of these women and adds in possible actions and feelings. She also includes a devotional at the end of each chapter, a bible study and a journey journal for writing down you thoughts or prayers.
The stories in this book are very interesting and engaging, however, are fictionalized versions of God's Word. For some people, this is not a problem but for me, it is. I want my children to know the truth and God's Word is true! In my opinion, I am not that comfortable with any fiction in our Bible stories. We really enjoyed the Bible study and devotions in this book.
This paperback book consists of 232 pages and is available for purchase through Apologia Ministries
for $13.00. Go here
to purchase your copy.

This is strictly my opinion about this book. Since I have told you how I feel about this, you should see what other crew members
had to say. I am sure there are many different views on this!

Disclaimer: I received a copy of this book free, in exchange for my honest opinion and review.