With The Children On Sundays
,
from Grace & Truth Books is a family worship book, published in 1893, as a series of children's sermons and brought back to print in 1995. It is designed to be a weekly study for family worship or a Sunday School curriculum for children ages 5 to 11.
In this book, there is a ten page "Suggestions to Parents" that offers methods to help and make these lessons a success. It gives you 63 tips to play church and contains 52 little sermons.
How we used WITH THE CHILDREN ON SUNDAYS!
As I said before, this book is designed to be a weekly study for family worship but we have been enjoying ours as a daily bible lesson in our homeschool. Our first subject everyday is Bible, so I decided to try this book as our daily bible and it worked like a charm. We are thoroughly enjoying this book. The bugs never want me to stop with just one story.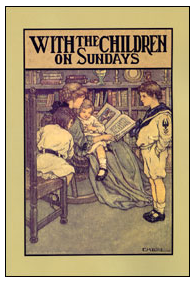 In each story, the author tells you an object to use along side your lesson. For example, the second story entitled The Worm In The Apple tells us to use a large perfect apple and a stunted, wormy one. This story teaches children how things on the inside is not always how it looks on the outside and how there is sin in our hearts and how it can eat its way out through our hearts into our lives like the worm in the apple. In my opinion, using objects to enhance these lessons are a wonderful idea. The children are really interested in how the object fits into the story.
At the end of each chapter, there are questions that you can ask your children and start a discussion about the lesson. Each lesson is about 5 to 6 pages in length. The book is very vintage looking with wonderful pictures throughout. We are enjoying this book so much. It is full of wonderful, character building lessons.
With The Children On Sundays
is a large paperback book that retails for $17.50. Go to www.graceandtruthbooks.com and enjoy free shipping on orders over $49.
To see what other crew members have to say about this book and others reviewed, go here.
Disclaimer: For this review, I received the book With The Children On Sundays, free, in exchange for my honest opinions and review.