I recently was able to try THIS WEEK IN HISTORY from A Thomas Jefferson Education. It is an online resource to teach students different events in history for each day on the calendar year. It also delivers a weekly lesson straight to your email inbox. How wonderful is that!!!! For just $9.99 per month, you can log onto tjed.org and click "This Week in History" and obtain numerous resources to specific events that happened in the upcoming week in history.
Each week I receive an email from Rachel DeMille that sets up each date for the upcoming week. Very helpful if you like to be organized in your homeschool. Under each one of the dates are listed at least one, if not more, events that occurred in history on that date. Then under that, there are all kinds of links listed from websites to visit, books to read and many, many activities to do. It's amazing! There is even a This Week in History Archives. If you missed a day, you can look that day up in the archives and see what happened on that specific day.
One of our favorite days was July 24. You can go here and see this weeks events between July 19 - July 25. On the 24th, in 1847, it tells us that pioneers cross the plains to settle the west. Well, this period in history is one of our favorites. So, we decided to do a few things on this day. We completed a couple of worksheets that are available from a link on the website. One entitled Pioneer Life Vocabulary and one entitled Pioneer Life Alphabet Activity.
That same day we prepared a pioneer supper. We made Chuckwagon Beans and cornbread. We even used our grain mill to grind fresh corn for the cornbread.
Here is our chuckwagon bean recipe from backwoodshome.com.
Chuckwagon Beans
1 16-ounce bag of dry pinto beans
9 cups water
Two large onions, peeled and chopped
2 teaspoons salt
1/2 teaspoon of dried oregano
2 cloves garlic, minced or 1/2 teaspoon garlic powder
1/4 teaspoon pepper
1 tablespoon brown sugar or molasses
Wash the beans and heat them along with 6 cups water until they boil for 5 minutes, then turn the stove off. Let them sit for an hour. Add three more cups of water and boil it all again. Now add everything else, stir it up and cook it for another hour.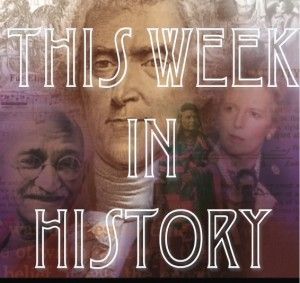 This site makes learning history so much fun.
I do know one thing, we will use this source all year long in our homeschool for learning and enjoying history. I am planning to pick two events per week for us to work on in our homeschool. We might do more if we can fit it into our schedule. We LOVE THIS WEEK IN HISTORY!
If you would like to enjoy history lessons like we are, go here and subscribe.
To see other reviews, go here.
Disclaimer: I received a full subscription from tjed.org in return for my honest opinion and review.