Christian Liberty Press
has a mission to help parents fulfill their God-given responsibility to provide a Christ-centered education for their children. We have used numerous Christian Liberty products in our homeschool. When we were offered to review Mr. Pipes and the British Hymn Makers, in ebook form, I jumped at the opportunity.
Mr. Pipes and the British Hymn Makers
is the first in a series of books by Douglas Bond. The suggested grade level is 7th - 10th. It is about a brother and sister, Annie and Drew, spending their summer in England. They start out thinking their summer vacation will be boring but when they befriend an elderly gentleman named Mr. Pipes, they begin to change their minds. Through their friendship with Mr. Pipes and the adventures they encounter, they learn about many famous hymn writers. Writers like Thomas Ken, Isaac Watts, Charles Wesley, William Williams and the list goes on.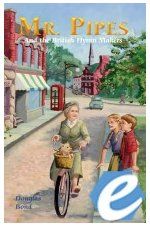 We really enjoyed and are still enjoying Mr. Pipes. We are using it as a read-aloud. I printed the ebook out and put it into a 3-hole paper folder. The pictures in the book are so inviting. We are thoroughly enjoying this book. We also like the fact that in this book there are hymns throughout written by some of the writers we have learned about. There is a new hymn writer introduced in each chapter.
View a sample by clicking here.
Mr. Pipes and the British Hymn Makers is available in paperback form for $9.89. For this review, we received the book in Pdf form and the cost of it is $8.79. Like I said earlier, this is book 1 of 4 in this series.
Mr. Pipes - Complete set is $38.99.
This is definitely a book to get for your homeschool. I will be purchasing the others in this series, SOON!
See what others on the crew had to say about Mr. Pipes and the British Hymn Makers.
Disclaimer: As a TOS crew member, I received a free pdf copy of Mr. Pipes in exchange for my honest opinion and review.