As a member of the Homeschool Review Crew, the kids and I were recently offered to try out a one year premium membership to Vocabulary Spelling City.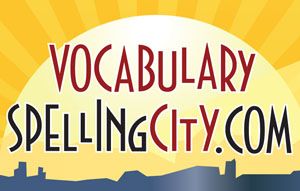 Spelling City Premium Membership
price is $29.99/year for up to 5 students.
For inquiries, contact
sales@spellingcity.com
In the past, I have used this site to make and print spelling lists for my bugs. We only had access to the free resources on the site. When we were offered this opportunity to review with the premium membership, I was excited!
With the program you can choose a pre-made list or make one up on your own for your children. I, most of the time, make my own lists. I try to use words each week on their lists that we are studying about.

There are many choices to choose from in the pre-made lists. Here are some examples of what you can choose from in the teacher resources section:
*Sample Word Lists by Grades*
Vocabulary City contains over 42,000 words. It has teacher training videos, free printable handwriting worksheets, free teaching resources, twenty-five games to play online or to print: Alphabetical Order, Unscramble, Parts of Speech, HangMouse, Crossword Puzzle, Word Search, and Vocabulary Test.

The games are fun and each and every bug I have never complains when I remind them that it is time to go to the computer for Vocabulary Spelling City. My only complaint would be that some of the word lists are a little long, 35+ words, in my opinion. I feel that is a lot of work for one week, at least for my family and our homeschool. I was able to split the lists with no problem. I would highly recommend this product. It is a very affordable teaching tool. The fact that it allows me to personalize my lists to the particular needs of each and every bug, makes me happy. I am planning on getting the app for my phone so when we are out and about, they can still play all of the fun games and learn at the same time. We will continue using this product and when my subscription runs out, I will definitely renew. It is WELL worth the $29.99 per year for up to 5 students. Good investment!
See what other people on the crew had to say about Vocabulary Spelling City by clicking here.
Disclaimer: I received this item for free in exchange for my honest opinion and review.