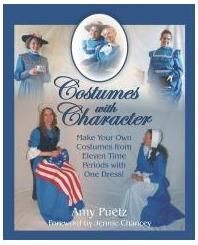 My girls and I have been talking about learning how to sew for a while now. I can sew a little.
We wear aprons around the house all of the time to do our housework and cooking. We have been wanting to make frontier-style clothing, so when Amy Puetz so generously offered her products for review, we got very excited.
We chose to review her Costumes with Character ebook. What a great way to make history come alive. This is exactly what we were looking for. Now remember, we are beginners, so were not able to do as much as we wanted. Here is what we were able to do for this review:
PRAIRIE APRONS FROM THE PIONEER ERA (1800S)

We are still working on getting the sunbonnets finished. As soon as we finish, I will post the pictures. I will continue posting on this. We are planning to make many of the costumes for our history studies.
Costume for Characters comes as a printed book
for $29.60. It also comes as an ebook
,
which is what we reviewed, for $17.56. These sewing books has step-by-step instructions for making accessories for eleven different time periods.
~Colonial (Pilgrim and Puritans (1620-1700)
~American Revolution (1775-1783)
~Young Republic (1800-1820)
~Romantic Era (1820-1848)
~Turn of the Century (1900-1910)
Each chapter has color instructions to make cuffs, aprons, bonnets, hats, collars, vests, etc. This is a fun book for girls and ladies of all ages.
The Costume with Character Patterns
book is on sale for $12.00. These patterns are just on a grid and need to be enlarged. These are full sized patterns from the books.
This product is awesome! A must have for anyone that wants costumes for history. We are having so much fun learning how to sew these and planning our next big sewing project. Here is another picture of my two oldest bugs (with the littlest bug in the back ground) helping me cut up and process yummy pears. The perfect opportunity for them to wear their new prairie aprons. In the near future, I am planning to sew my to youngest bugs their own aprons so that they can help their mommy and oldest siblings in the fun things we do in the kitchen!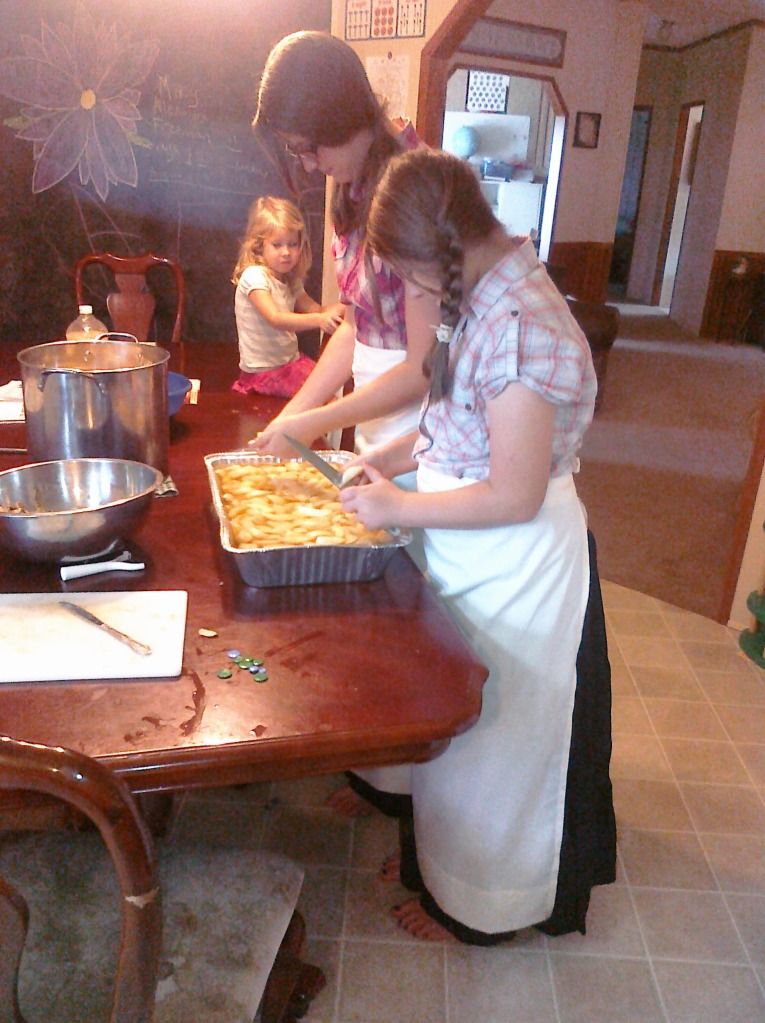 There is also a Back to School sale going on. Now is the time to get your patterns if you are wanting to make some awesome costumes.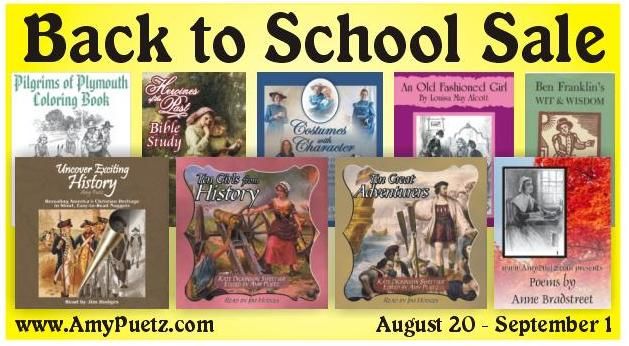 Check out what other crew members are saying about Golden Prairie Press.
Disclaimer: I was given the Costume for Characters ebook and patterns free of charge, in exchange for my honest opinion and review.