We received the pdf download of their "FITNESS 4 HOMESCHOOL CORE 1 CURRICULUM" for this review. We (me and my bugs) have been talking about finding us some kind of exercise program to do daily, here at home. Well, when Family Time Fitness came up for review, I was thrilled.
Family Time Fitness
suggest you use this with children grades K-8, but I think most anyone can use it. I have a 3 and 5 year old that participated in this with us. We all used it. Many different ages: 14 year old, 11 year old, 9 year old, 5 year old and 3 year old. We are really enjoying it. I think it's a great fitness program.
It really works well if you can do it at least 4 days a week. Not always easy to fit in, but works. The Core 1 has 260 lessons in it. Each lesson lists the Warm-up, A
ctivity/Game Play, Cool Down and Outdoor Activity. It also lists skills that will be taught, equipment needed and a suggested recovery time (between exercises).
Since it was a pdf download, I printed a weeks worth of lessons out and put it into a 3-ring binder. Each day we would refer to it. They also give you a link to demonstration videos. Some we watched, others we knew how to do. I really liked having the videos. It really helped when I wasn't sure how to do something.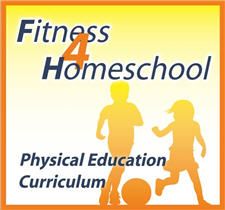 This is what the first day, Core 1 Lesson 1 looks like.
Warm-Up:
Standing Leg Swings
Toe Raises
Rocking Horse Series
Activity/Game Play
Frog Squats
Shuffle, Skip, Hop Series
Jump the River
Cool Down
Single Leg Stretch
Crossover Stretch
Outdoor Activity
Jump Rope
Just a little heads up, the recovery time for a 42 year old mom after doing 60 frog squats, THE FIRST DAY, is about 4 days! YIKES!!!!!!!
Most of the equipment needed for this fitness program is very basic. It does state that many activities can be done without equipment. Here is a list that Family Time Fitness lists that will help enhance your lessons.
BEAN BAGS
JUMP ROPES
HULA HOOPS
PLAYGROUND BALLS
FOAM BALLS
CONES
MEASURING TAPE
STOP WATCH
EXERCISE MAT

They do give you alternate options. For instance, foam balls could be replaced with a blow up beach ball or you could use a box, a bucket or even a rock for the cones.
We are still using this program and the days we do it, we feel great. At the beginning, I recommend to take it slow. Maybe 20 frog squats instead of 60! All in all, we love this program and , to date, using this program and eating more healthy, I have lost 10 lbs.! Yay!!! This is definitely something we will continue doing and as the weather gets cooler, we will do more outside exercise.
Disclaimer: I received the Fitness 4 Homeschool Core 1 Curriculum at no charge in exchange for my honest opinion and review.